TRC integrated paging systems solutions are products that are fully compatible with all existing telephone systems and is compatible with VoIP equipment.
TRC have extensive experience in all types of environments and our pre-engineered solutions provides the best paging solutions for all your specific paging needs and applications.
Typical paging environment
Office, Retail, Warehouse, Manufacturing,schools, yards, and Industrial facilities
Bogen is a leading Provider of telephone integrated paging systems providing highest quality sound systems and telephone peripherals. Bogen is a leading Provider of telephone integrated paging systems providing highest quality sound systems and telephone peripherals
Solutions
Amplifiers, Speakers
Telephone Paging Products, Intercom Systems
School Systems, Loudspeakers, Paging Horns
Digital Voice Announcers and Accessories
Benefits
Allows Easy Internal Communication
Profitable Add-On To Most Phone Systems
Broadcasting Ability
Zone Paging(Specific Zones)
Background Music
Emergency Alert
Multi-Tone Generators
Night bells
and much more
Providing
Increases Efficiency
Increases functionality
Increases Customer Satisfaction
Voice Over IP (VOIP) Overhead Paging
Businesses can be set up for simultaneous company-wide overhead paging to multiple locations within a facility or across a campus without running new lines, or even to remote locations thousands of miles away.
Telephone access modules and amplifiers integrate seamlessly with VOIP Gateways to provide overhead voice paging over IP networks
Paging Ringers
TRC's intgrated paging ringers are recommended for most "key system" and PABX systems.
Provide loud ringing warble tone over existing paging systems!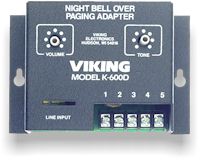 The K-600D eliminates the installation of multiple bells, relays and power supplies, whenever night bells, loud ringing or emergency tones are required. The K-600D provides an existing paging amplifier with a pleasant electronic warble tone each time it receives ring voltage from a C.O. line or analog PABX/KSU extension. The K-600D requires no external power supply and provides a floating 600 ohm audio output. Auxiliary N.O./N.C. relay contacts are provided during ring signal for muting, switching or operation of external signaling devices. Volume and tone controls are also provided.
Applications
Night bell over paging
Loud ringing over paging
Contact closure on ringing
Features
Provide tones over existing paging amplifiers
Auxiliary relay closures provided
Connects directly to ringing C.O. lines or analog PABX/KSU stations
Lloud ringer capable of producing 110 dB off penetrating warble sound. Designed for inside or outside application this horn is made of high impact white plastic. The omni directional swivel mount base allows for easy and accurate orientation.
Features
• Operate from 90 V CO line ringing
• Easy installation via modular line cord
• Swivel mount allows for easy and accurate directional set up
• Weather proof enclosure
• Excellent for locations with loud machinery or background noise
• White colour
• 110 dB of panatrating warble sound
• Use external 24 V @ 250 mA adapter
NTL600E universal electronic loud ringer can be used in a wide variety of telephone application as well as general alarm device. No need to carry multiple device for each individual case, with the NTL600E, one unit does it all. Connection by means of modular jack or direct wires through 110 punch down connector, the NTL600E loud ringer can be installed inside or outside and produce 8 selectable sounds at a pressure level from 80dB to 115dB. The ringer can be powered directly from 90 volts co line ringing or by an external 24volts source through KSU dry contacts common audible terminal.
Works on all phone systems, dry contact or 90volt ringing
•Choice of 8 selectable sound patterns,- Horn, Bell, Warble H, Warble M, Warble L,
Chime, Timeclock, Siren
•Choice of 4 operating Voltages – 24VDC, 24VAC, 48VDC, and 90Vrms/20Hz
•Indoor and Outdoor Mounting
•110 punchdown or direct line plug-in
•Operates directly off 90V Ringing line current
• Ruger high impact plastic construction
• One unit does it all
• Includes NTL750 power supply

Wheelock's Series MT and MT Strobe Multitone electronic signals offer a choice of eight (8) alerting sounds: Horn, Bell, March Time Horn, Code-3 Tone, Code-3 Horn, Slow Whoop, Siren or Hi/Lo Tone. One alarm appliance can provide superior sound penetration for various ambient and room conditions with two field selectable sound output levels.
Features:
UL Standard 464, 1638 and 1971 Listed
12 VDC and 24 VDC and 115 VAC models available
Low cost and easy installation via standard electrical boxes.
Attractive flush or surface mounting options
No additional trimplate required for flush mounting. Easy installation with screw terminals accepting #12 to #18 AWG wire
Strobe models available with 15 candela rating for independent or single input activation
Audible and strobe can operate from a single signaling circuit with any of the (8) audible alerting sounds

Multi-Tone Loud Horn(Series MTH-24)
Weatherproof construction Designed for use in noisy and/or large indoor our outdoor locations where two different audible alerts are required Built in 10 watt amplifier and electronic tone generator
Series HS Horn appliances are the coise for 4 wire horn strobe applications with 3 selectable dBA

settings (90, 95, 99). They satisfy virtually all requirements for indoor, wall mount applications.
Features:
Selectable Continuois Horn or Temporal (Code 3)
3 Selectable dBA settings of 90, 95 and 99 dBA in both tones
4-Wire Horn Strobe Applicance allows for separate operation of the horn and strobe ciruits
Wall and ceiling mount
Synchronized strobe and audible with Wheelock SM, DSM Sync Modules or PS-12/24-8MP Power Supply with build-in sync protocol
No Strobe\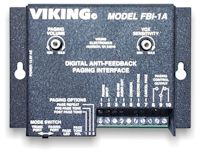 Totally Eliminate Paging Feedback
Even the best designed paging systems can experience feedback. Now you can eliminate annoying feedback over your paging speakers with Viking's model FBI-1A digital antifeedback paging interface.
Pages of up to 16 seconds (expandable to 60 seconds) can be stored and the FBI-1A automatically adjusts to the page length for faster processing. In addition, the FBI-1A can be programmed to provide pre-page and post-page alert tones.
The FBI-1A utilizes state of the art digital recording technology to record the "live" page from a phone system's paging port output or unused trunk port. The FBI-1A then immediately plays back the recorded page once or twice (selectable) over the paging system.
Paging Bells, Ringers, Allerts, Singalling Devices.
TRC's intgrated telephone allerts and singalling devices for paging systems and stand alone telephone devices.

Office Area Telephone Alerts
Series CH and WR Helps solve the problem of missed calls High quality, compact signaling devices available in a variety of signaling modes including chime, bell and warble

Telephone Alerts
Series UTA-1 and UTA-WH-VPS High dBA (109 dB) and low current draw One unit for most telephone

systems with easy dip switch selection Standard RJ11C phone jack connection (USA) or CA-11 jack (Canada) Attractive indoor and outdoor mounting options

Series CH Telechimes
Volume and tone adjustments Low current draw Models for low voltage AC and DC power supplies are available

Telephone Alerts
Time Controlled Alert Tones
Add Time Controlled Alert Tones and Emergency Signals to your Paging System Viking's model CTG-1 is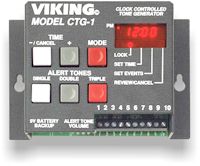 a clock controlled tone generator designed to provide accurately timed alert tones or buzzer sounds over an existing paging system. The CTG-1 can be programmed to output single, double or triple alert tones or buzzer sounds with up to 128 events in a 24 hour period. These tone/buzzer sounds are ideal for indicating the start and end of shifts, break times, lunch periods, etc. for factories, schools, or any business requiring an audible indication of specified times. Each day of the week can be programmed to either on or off, allowing you to turn off the alert tones during specific days of the week (weekends, etc.) The CTG-1 is easily programmed, and requires 60 Hz or *50Hz power to maintain the time base. *Special firmware required.
Applications
Signal the beginning and end of class periods, breaks, and lunch periods for schools
Signal the beginning and end of shifts, breaks, and lunch periods for factories and other businesses
Provides a door bell and /or alarm sounds over an existing paging system, for door entry, fire, severe weather applications
Use with Viking's digital announcers, to provide timed messages
Strobe Light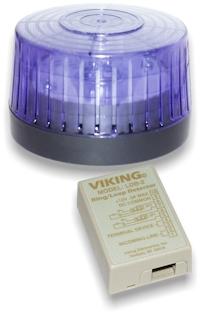 Provide Strobe Light Indication of Line Status The BLK-1 provides high visibility indication of analog line status through a high powered strobe light. The BLK-1 is the ideal solution for the hearing impaired and can be used equally well in loud warehouses or factories, where ringing phones can not be heard. Alternatively, the BLK-1 can be used to add emergency notification to already installed emergency phones. The LDB-2 module can be installed on any standard telephone line or analog PABX/KSU station. The 1 million candle power strobe can be interfaced to flash on ringing, off-hook (line in-use) or a combination of both. The kit includes: (1) LDB-2 loop/ring detect module, (1) strobe light, (1) PS-2 12V DC power adapter, (2) wire nuts, and 20 feet of wire.
Applications Ringing Phone or TTY indication for the hearing impaired
Ringing phone indication in loud warehouses and factories
Emergency illumination for emergency phones in elevators, campuses, hallways, parking ramps, etc.
Alarm indication for security systems or alarm panels with phone dialers
Features
Vandal resistant polycarbonate lens
Long life 1 million candle power strobe light
Can be configured to signal ringing, off-hook (line in use), or a combination of both

Series PS Telestrobes


Ideal for high ambient noise environments,
quiet zones in hospitals, libraries and for alerting the hearing impaired
ADA compliant Surface mounting with convenient plug-in installation
The PB-1 Panic Button Kit connects to a Viking 1600A Series Emergency Phone to provide a one-way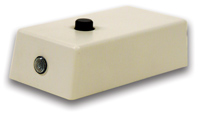 talk path to the pre-programmed number when used.
The PB-1 will activate the 1600A Series Emergency Phone and light a red LED to let you know your call is connected. The receiving end will be able to hear everything happening at the installation site, but the site will not be able to hear anything from the receiving end, this makes it a very effective security measure, as there is no other indication that the site is being monitored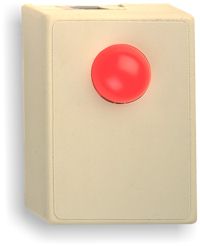 Provide Line Status and Message Waiting Indication
When used with an analog phone line, the VR-1A will provide "ring" indication, "on the phone" indication and "message waiting" indication for both "stutter dial tone" and standard message waiting voltage. In this application the VR-1A connects directly to tip and ring. When used with a headset, you can end those nagging interruptions that occur when associates' don't realize you are on the phone because you are using a headset. The VR-1A will flash twice indicating to everyone that you are on the phone and you are not to be disturbed. The VR-1A installs in the handset/headset jack using an included "T" adapter.
When used with electronic or digital phones, the VR-1A won't have you guessing which phone is ringing in busy offices. The flashing LED can be seen up to 100 feet away. The VR-1A connects directly to the electronic phone's speaker.
Features
Displays "ringing," "on-the-phone" or "message waiting"
LED visible up to 100 ft
Power supply included
Compact package mounts with double-back tape
Connects with modular cord