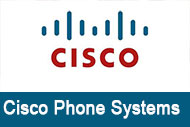 Cisco Phone System
Cisco Phone System are efficient and responsive with a single unified communications and call control platform for voice, video, mobility, and presence services.
TRC is regarded as top Cisco partner in Toronto, Canada.
Browse through our site and learn more about the Cisco Voice/Data Solutions we carry.
We also provide our services in Southern Ontario, Montreal, Calgary, and Vancouver. Also, we offer our services in many other Canadian and American market places with Cisco voice/video solutions.
Communications platform designed for growing small to medium-sized businesses with smaller IT staffs. Use with Cisco gateway solutions to save on SIP trunking
Offers premium voice, video, mobility, messaging, presence, and contact center features on a single platform
Supports up to 50 sites
Offers voice and video calling and mobility and unified messaging on a single appliance server
Supports up to 20 sites
Secure data, voice, video and wireless all come wrapped up in the Cisco Smart Business Communications System (SBCS) package.
Designed and priced for small business, you can now get data, voice, messaging, and wireless in one easy-to-use, complete package.