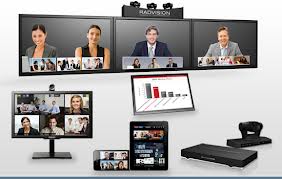 Avaya Video Conferencing – Radvision Scopia removes the barriers of distance, making you more effective whether you're working from your desktop, conference room, or mobile device.
Our Scopia® Desktop extends a room system deployment to remote and desktop users. We create personal conference rooms without walls, where users can participate in voice and video communications and content sharing. Connect to this virtual conference room from anywhere, and invite other users or room systems. The simple web browser plug-in is centrally managed, distributed, and deployed without complex licensing fees or installation issues.
Scopia® Mobile provides applications for video conferencing, conference control, and management for smart phones and tablets supporting Apple iOS when connected over mobile broadband or Wi-Fi.
High definition endpoints continue to increase video quality in traditional room-based video conferencing systems, and Unified Communications and collaboration solutions now extend video to desktops and mobile devices. Avaya Video Conferencing solutions are built on our industry-leading Radvision Scopia® infrastructure, which delivers flexibility and cost effectiveness as enterprises adopt the latest HD and Unified Communications technologies. We deliver the scalability and seamless device support enterprises need to leverage and protect current standards-based conferencing investments.
The Scopia® platform is a powerful combination of hardware and software that supports media processing for advanced room system devices and delivers high scalability and distributed processing for desktops and mobile deployments.
Avaya Video Conferencing – Radvision Scopia