Advanced Business Endpoints
Cisco Unified IP Phones 7900 Series If your business requires High-definition voice (HD voice), vibrant color displays, Gigabit Ethernet connectivity and more than basic support for endpoint applications, the Cisco Unified IP Phones 7900 Series is the portfolio for you. Read more
Cisco Unified IP Phone 7911G Endpoint
Basic but Powerful: This single-line endpoint is ideal for environments where the everyday business communications need is lighter, such as reception areas, laboratories, cafeterias, hallways, or the manufacturing floor.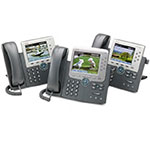 Cisco Unified IP Phone 7942G, 7945G, 7962G, 7965G, and 7975G Endpoints
Full-Featured Endpoints: These full-featured endpoints have speakerphones and handsets designed specifically for superior high-fidelity or wideband audio.
Cisco Unified Wireless IP Phone 7921G, 7925G, 7925G-EX, and 7926G Endpoints
Increased Mobility: Increased Mobility For people who need to move about the workspace or within the campus, Cisco offers four wireless IP endpoints
Rapid Call Management
Cisco Unified IP Phone 7931G
Rapid Call Management: The Cisco Unified IP Phone 7931G is ideal for commercial and retail environments.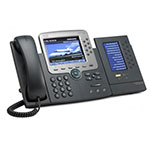 Cisco Unified IP Phone Expansion Modules 7915 and 7916
Enhanced Access and Scalability: Cisco offers extended call-coverage capabilities for administrative personnel with
two expansion modules.